Gugure! Kokkuri-san 1x10
Waiting in Vain for Autumn Colors!
One winter day Kohina and Kokkuri-san discover a maple tree still displaying autumn colors. A girl dressed in a kimono standing behind the tree asks them to find the person she is waiting for. They seek out the tengu, who knows about everything happening in the mountains, and he agrees to tell them on one condition.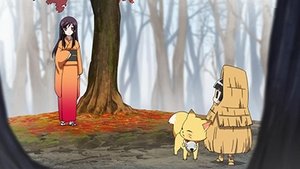 Dec. 08, 2014
Gugure! Kokkuri-san season 1