Baka and Test: Summon the Beasts 2x1
Me, Everyone, and the Beach!
Akihisa, Mizuki, Minami, Yuji, Hideyoshi, Kota, Shoko, Aiko, and Akira head to the beach for an overnight stay after Akihisa finally convinces his sister to let the girls go along. Later on Akihisa and Yuji see that everyone was getting hit on except for them (Shockingly Kota was getting hit on as well), they attempt to hit on girls. However, in the end their attempt was futile and they ended up getting punished by the girls.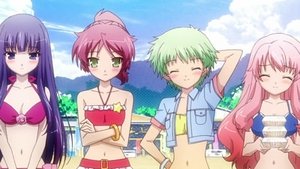 Jul. 08, 2011
Baka and Test: Summon the Beasts season 2